What shall we do?
U Shape
conductive U channel profiles ,which is made of conductive metal particles and non-conductive silicone, have excellent conductive property,
shielding effectiveness, water/gas sealing property, erosion resistance and wide operating temperature range with lower cost
It can be divided into the silvered-plated copper,silvered-plated aluminum,silvered-plated glass ,
nickel graphite etc according to its conductive filler. continuous extrusion technique is adopted to produce
such products ,extruded elastomer types has properties, such as continued length ,especially for large
scale applications ,This type of products can be made with customized cross section, and offers flexibility
to meet different application requirement .
Benefit :
1. Excellent conductivity throughout the surface ,long life for use .
2.High temperature stability
3.Different conductive filler of rubbber products for different requirement of use
4.good corrosion resistance , good elasticity and elongation .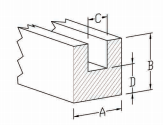 | | | | | |
| --- | --- | --- | --- | --- |
| 产品型号P/N | A/mm | B/mm | C/mm | D/mm |
| BRL-E 0000XE-U3001Y | 2.54 | 2.54 | 0.80 | 1.52 |
| BRL-E 0000XE-U3008Y | 2.54 | 3.10 | 0.80 | 1.02 |
| BRL-E 0000XE-U3009Y | 3.00 | 3.50 | 0.51 | 0.65 |
| BRL-E 0000XEU3010Y | 3.20 | 5.72 | 0.50 | 1.94 |
| BRL-E 0000XE-U3011Y | 3.91 | 3.89 | 2.00 | 2.25 |
| BRL-E 0000XE-U3012Y | 4.45 | 3.96 | 1.20 | 1.85 |
| BRL-E 0000XE-U3007Y | 8.13 | 8.00 | 4.90 | 5.00 |
| BRL-E 0000XE-U3002Y | 9.53 | 12.70 | 4.90 | 4.78 |